Register
Sep2022 DINNER MTG IN-PERSON Presentation: DESIGNING A COST EFFECTIVE RAINSCREEN
When: Tue, 13-Sep-2022 17:15 - Tue, 13-Sep-2022 20:00
Where: 141 Wilson Ave (Toronto Cricket & Cu, Toronto, ON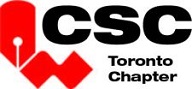 Sept 13th, 2022 IN-PERSON Technical Presentation:
DESIGNING A COST EFFECTIVE RAINSCREEN FACADE WITH HPL
With fall around the corner, CSC Toronto Chapter wants to extend wishes of a happy few weeks until summer's close! It was great seeing many members at the Annual Golf Tournament. We equally look forward to hosting you at our upcoming fall events!
The first of these events will be our monthly Dinner Meeting held on Tuesday, September 13th, 2022 at the Toronto Skating, Cricket & Curling Club. Collette Hart from Allied Technical Sales (ATS) will be your dinner presentation speaker that evening.
As always, we sincerely thank you for your support of CSC's Toronto Chapter and hope to see you there!

Presentation Description:
This presentation focus­es on designing a cost effective rainscreen facade with high pressure laminates. It goes over what is an HPL system, Rainscreen Overview, Cost Factors, Strategies and Inspiration.

Learning Objectives:
- What is a High-Pressure Laminate in the Rainscreen/Facade world
- Overview on Rainscreens and Benefits
- Cost Factors for such materials
- Strategies and Inspiration regarding HPL
Collette Hart, ATS SALES & TRESPA
Speaker Bio:
Collette Hart is an enthusiast of Thermally Resilient Rainscreen Construction. She brings her 15+ years of industry knowledge to anyone that will listen with passion, humour and honesty. A proud founding member and active member of RAiNA (Rainscreen Association in North America), on their Education and Training committee where she continues to advocate for the Canadian audience.
Collette has amassed a wide range of knowledge and experiences on various products from her years as a Manufactures Rep and working directly for Installers.
You can currently find Collette at Allied Technical Sales where she mentors the Canadian Sales team and oversees the American Independent Rep team. She is focused on expanding the category for Compact HPL in both Exterior and Interior applications.
Date:
Tuesday, September 13th, 2022
**Registration closes Friday, September 9th, 2022 @ 12:00 PM EST
INFO
Sign up before:
Mon, 12-Sep-2022 09:00
All Events by CSC Toronto Chapter
Return to Menu